File Ref. PC/A/6C
PRESS STATEMENT
October 18, 2018
 UPCOMING PRICE INCREASE
Pohnpei, Federated States of Micronesia, October 18, 2018 – On October 10, 2018, the Vital FSM Petroleum Corporation announced the third increase in wholesale prices for gasoline, kerosene and diesel in the FSM since January 2018. Although this price increase had originally been scheduled for May 2018 when regional market prices jumped $0.20 per gallon, the corporation's Board and Management elected to hold off on passing the additional costs to customers.
As of October 18, 2018, pump prices throughout the Micronesian region showed that gasoline in Pohnpei was $0.95/gallon less than the price in Majuro, $0.34/gallon less than that in Palau, and also $0.27/gallon less than Guam (see Fig. 1). Despite the upcoming price increase of $0.25/gallon, FSM motorists are consistently paying less at the pump than motorists throughout the region.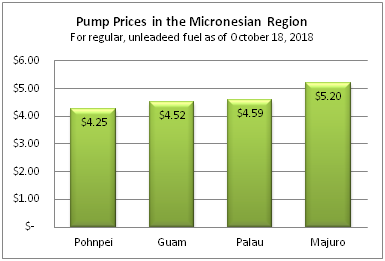 According to the U.S. Energy Information Administration, the main components of the price of gasoline are: the cost of crude oil; refining costs and profits; distribution and marketing costs and profits; and taxes; of those four components, "the cost of crude oil is the largest factor in the retail price of gasoline."[i] In October 2018, crude oil costs have reached a four-year high, which has been attributed to higher demand and lower inventories. Since 2017, the Organization of the Petroleum Exporting Countries (OPEC) has been reducing supply, as member countries have been impacted by geological and political factors.
For inquiries, email info@fsmpc.com.
[i] "Factors Affecting Gasoline Prices" U.S. Energy Information Administration, March 6, 2018, https://www.eia.gov/energyexplained/index.php?page=gasoline_factors_affecting_prices.